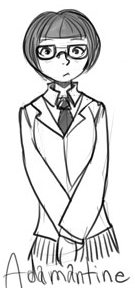 Adamantine is a student at Whateley Academy. She lives in Dickinson Cottage on the Freshman floor.[1]. Her family came to visit her on Parents' Day 2006.[2][3] She seems to hang out with Britomart.[1][2] She's one of the heavy hitters in her Basic Martial Arts section.[4][5][6][7]
Fall 2006
Edit
Spring 2007
Edit
References
Edit
Ad blocker interference detected!
Wikia is a free-to-use site that makes money from advertising. We have a modified experience for viewers using ad blockers

Wikia is not accessible if you've made further modifications. Remove the custom ad blocker rule(s) and the page will load as expected.