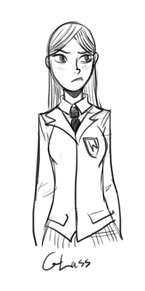 Darlene, codename Glass, is one of the Underdogs.[1] Her power is turning transparent -- not invisible, transparent, like she's made of glass.[2] Some references suggest that she actually turns into glass, however.[3] She was ranked 312 in the student-made rankings out of 327 freshmen and sophomores.[2] Bunker was actually angry at getting her for the Combat Finals, since Darlene posed no challenge -- Bunker only had to point her sidearm at her.[3][4]
Darlene thought of the to-go carriers for transporting Anna's 'little friends'[1]; not the boxes, but the carriers they slide into.
Associations
Edit
Fall 2006
Edit
References
Edit
Ad blocker interference detected!
Wikia is a free-to-use site that makes money from advertising. We have a modified experience for viewers using ad blockers

Wikia is not accessible if you've made further modifications. Remove the custom ad blocker rule(s) and the page will load as expected.