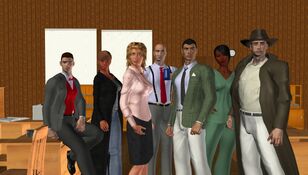 This article was written by E. E. Nalley.
The Paranormal Crimes Division is a sub unit of the New York Police Department. They operate the 101st Precinct and have jurisdiction over both crimes committed by or against Mutants as well as managing the department's force of Paranormal Police Officers. The headquarters of the 101st Precinct are located in the basement of the old Police Headquarters at 240 Centre Street. The remainder of the building was converted into very expensive condos.
Detective Section
Edit
The Detective Section of the PCD is commanded by Captain Lawrence Hindle, a thirty year veteran of the force. He's a no-nonsense hard nosed detective of the Old School. The Detectives that report to him are:
Uniform Patrol Section
Edit
The Uniform Patrol Section employs all NYPD officers who are also MID holders. They wear a distinctive uniform of an NYPD Patrolman but in powder blue as opposed to the darker Navy Blue of the regular Patrol Officers. When a MID holding officer is promoted to detective or higher, he or she no longer reports to this section. Members of the PCD Uniform Patrol Section include:
Related Personnel
Edit
Although not members of the PCD, these people often work closely with them:
Ad blocker interference detected!
Wikia is a free-to-use site that makes money from advertising. We have a modified experience for viewers using ad blockers

Wikia is not accessible if you've made further modifications. Remove the custom ad blocker rule(s) and the page will load as expected.